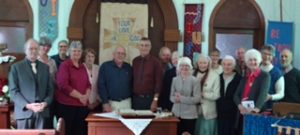 On Saturday 17 November a Service of Thanksgiving will be held at The Summit Uniting Church, in Church Road at 1pm. Former members and people who have had a connection with the Church and the community will gather for a thanksgiving service and "decommissioning" of the building.
The last regular service was held this year in April.
In 2015 the congregation celebrated its Centenary and a history of the Church and the people who have worshiped there was published. Many people who went to Sunday School there or attended worship on a regular basis have taken seriously the call of God to serve and to be involved in the mission of God in other places. Amongst the former members were Ministers, Lay Preachers, missionaries, Bible translators and "ordinary" Christians who have generously supported community activities and volunteered in community organisations. Many of them believe that they have been blessed by God in order to be a blessing to others.
On Sunday morning the symbols of worship will be carried to the Stanthorpe Uniting Church for a Family Service and ceremony of amalgamation.